Happy New Veganuary
01/01/2018 at 18:30 pm
Happy New Year! It'd be hard to miss that this is the month of Veganuary as local and national media have really taken it on board since it began as a charitable organisation and project in 2014! Being an entirely vegan shop Wild Thyme celebrates the opportunity for increasing numbers of people to learn and explore the compassionate, health and environmental reasons for why so many are adopting a vegan plant-based diet.
Last year 60,000 people took the pledge to go vegan for January and many continued to stay with it throughout the year. This January that number has increased to over 100,000. There is now so much choice that it doesn't need to be a difficult change to make at all. Instead of feeling deprived of familiar favourites there are so many new and exciting ingredients and replacements for the old that it really just requires stepping out of an old mindset and into a new experience that will not only be delicious but also benefit animals, our planet, our personal health, and our collective health services such as the NHS since for many people a wholefood plant-based diet brings preventative advantages as well as huge improvements to many health conditions.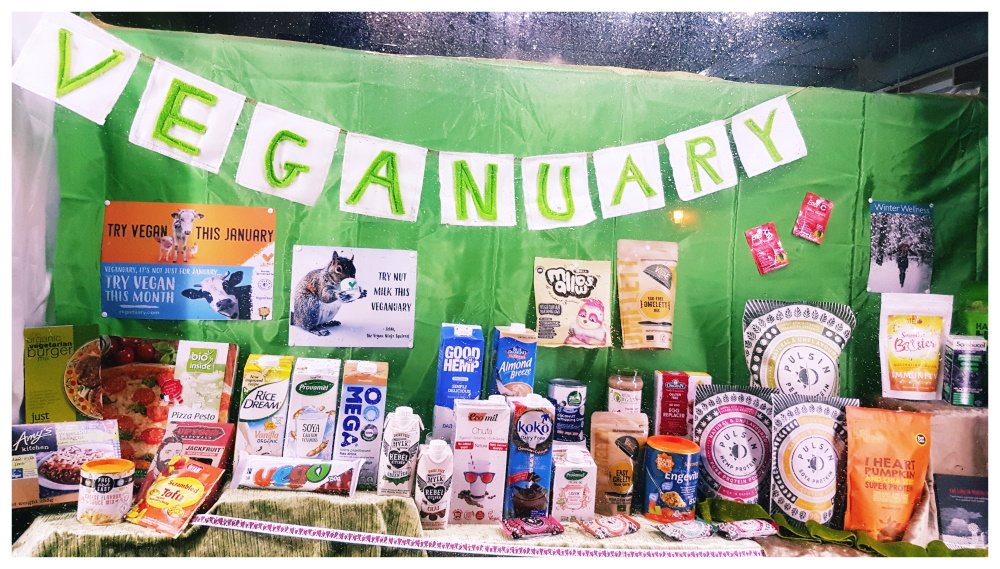 To sign up to the Pledge and find lots of tips, information and recipes, visit the Veganuary website:
Changing your diet can feel overwhelming and confusing if you're not sure of all the options available and people can worry about their nutritional wellbeing and ability to produce meals which will keep them satisfied, healthy, full of energy and happy about their new direction. We welcome people to visit the shop to ask any questions or be guided around the products, and find all the reassurance they need that they're on the right track!
One issue that many newcomers worry about is whether they will get enough protein. This isn't a problem at all on a plant-based diet and there is no shortage of high quality protein in beans, seeds, nuts, pulses, vegetables and grains particularly ones that many people may be less familiar with such as kamut, teff, amaranth and quinoa (actually a seed). For those who want an even more intense protein hit there are protein powders (pea is a particularly high 80% protein as well as providing iron and zinc) which can be added to any sweet or savoury meals such as in soups, mains and smoothies.
*All our Pulsin protein powders are on a Veganuary sale at 20% off!*
There are so many dairy milk alternatives that it is now unusual to find it not offered as an option in cafes and restaurants. We have a very full range in the shop for all tastes and requirements - hemp, soya, cashew, almond, coconut, flax, oat, rice to name a few.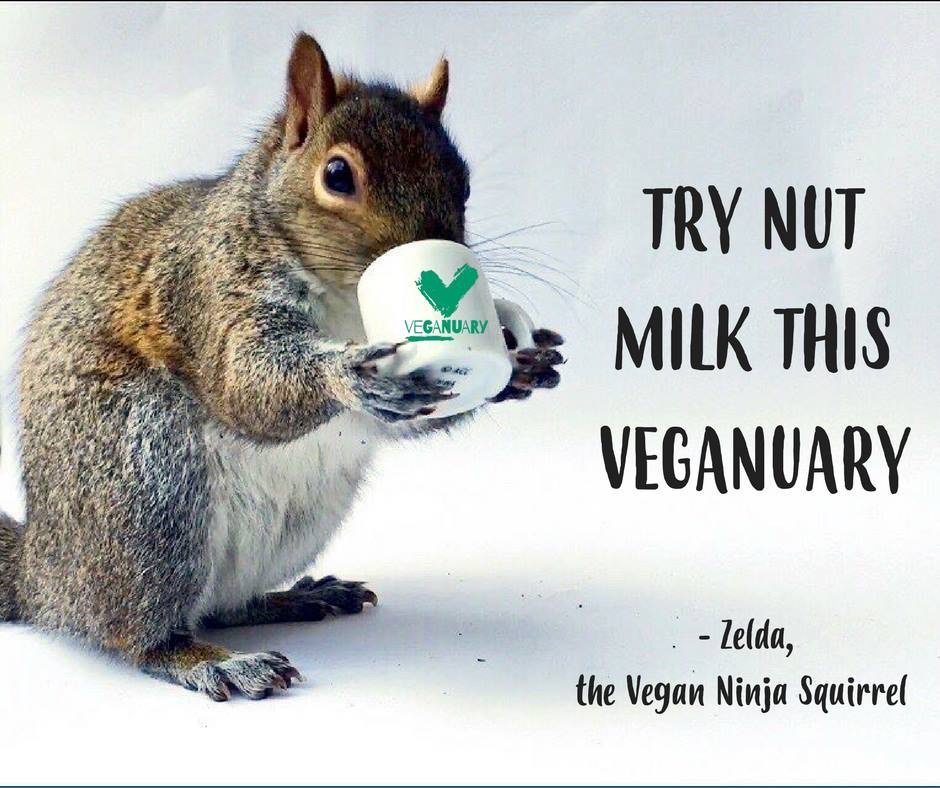 I met Zelda, the Vegan Ninja Squirrel, back in 1989 (see below). That was the year I decided to go vegan, simply because I didn't want to be complicit in the horrific cruelty I'd discovered was inflicted on animals for an unnecessary dietary preference. My knowledge of the health and environmental benefits came years later.
Back then, options for eating out were extremely limited. The situation has changed incredibly in the intervening years so now it's unusual not to find at least one vegan option on a menu!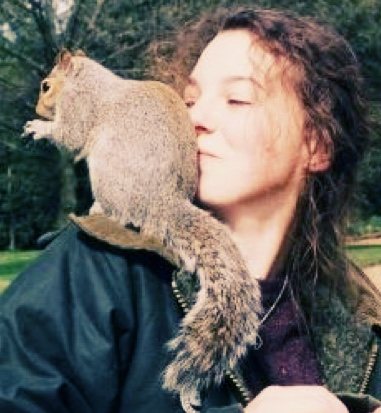 Bookshops, magazine shelves and online via websites, blogs, Youtube... the information, recipes, ideas, advice and support is so abundant. A quick online search can bring up plenty of suggestions and recipes for breakfast, lunch, dinner, cake and more. If you like the tactile feel of a good book we have some great ones in the shop.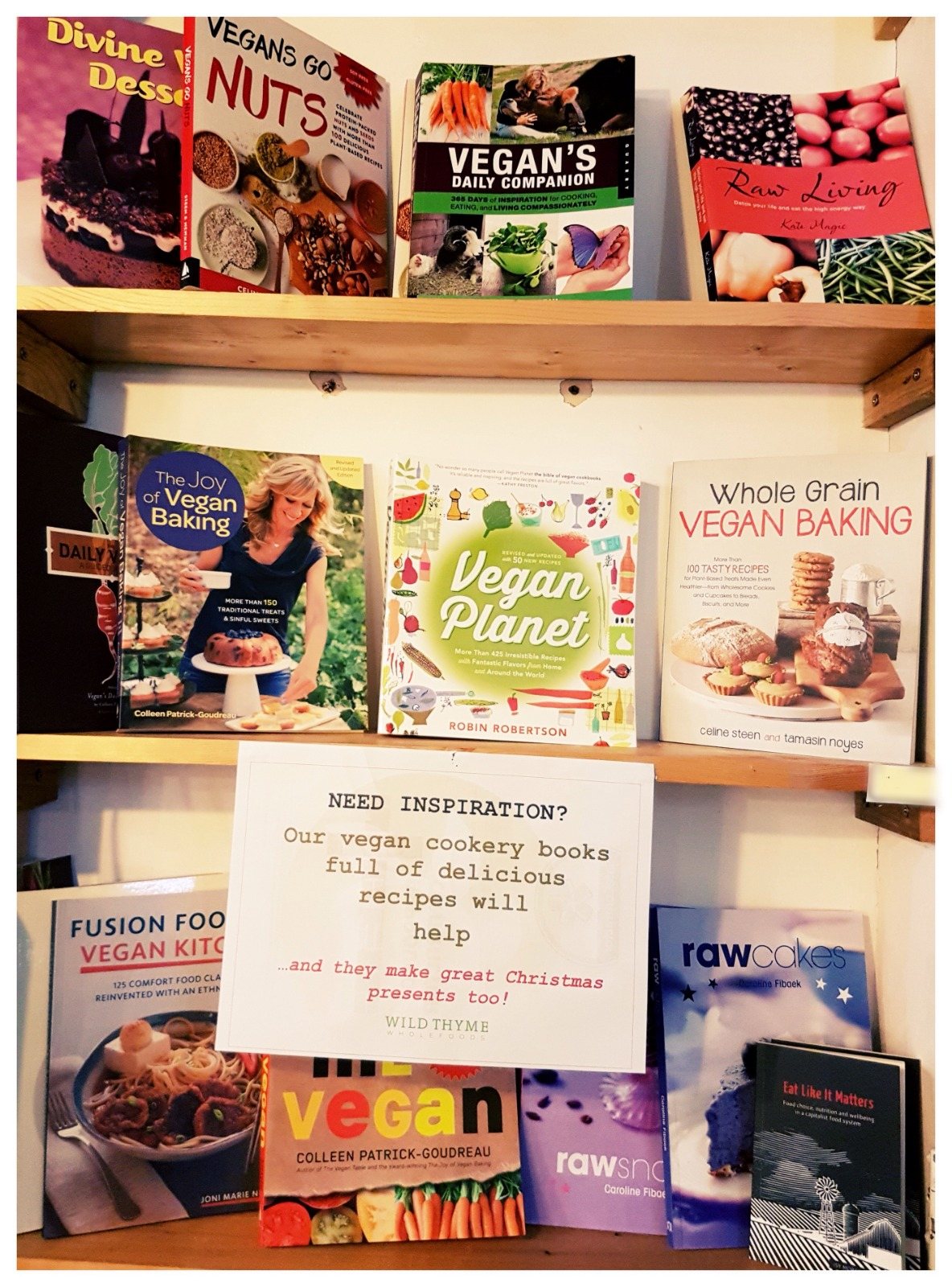 Whatever your taste and style in the kitchen you can keep on keeping on! Whether you like curry, pizza, lasagne, chilli, bolognese, full roast, dahl, pie and mash, pancakes, fritters, ratatouille, bubble & squeak, soups, stews, burgers, sausages, shepherd's pie, gnocchi, risotto, pilaf, casserole, cakes, biscuits, cheesecakes, crumbles, bakes, ice-cream... it's all still there for you to have and play around with, just by making a few tweaks and learning a few new skills and trying an exciting variety of new nutritious ingredients.
Or sometimes if you're like me and my son, a quick beans on toast with heaps of 'cheese' is just the thing. Nothing like an old childhood favourite!
Which brings me to the big sticking point for a lot of people considering the vegan pledge... BUT CHEESE!
Oh yes, that highly addictive old comfort food cheese! I've been off the cows stuff for nearly 30yrs but my Mum still likes to remind me of how, when they asked what I wanted for my birthday when I was a kid, my reply was "a big block of mature cheddar".
I loved cheese! But in later years after finding out about the facts of the dairy industry, and feeling the health benefits of cutting it out, I can honestly say I don't miss it. Plant cheeses have come a very long way since I first became vegan (when there really wasn't much that filled the gap!). Now there are some truly great alternatives. My personal favourites are Violife cheeses and some of the Vegusto ones.

Someone going straight from dairy to plant cheese and expecting an instant replacement for the taste they're used to may be unsure at first. I suggest having a break from cheese, letting the addictive craving for it pass a while, clearing your taste of it, then start exploring the wide range of plant cheeses and find which ones appeal to you.
Here are some cheeses which we have at Wild Thyme: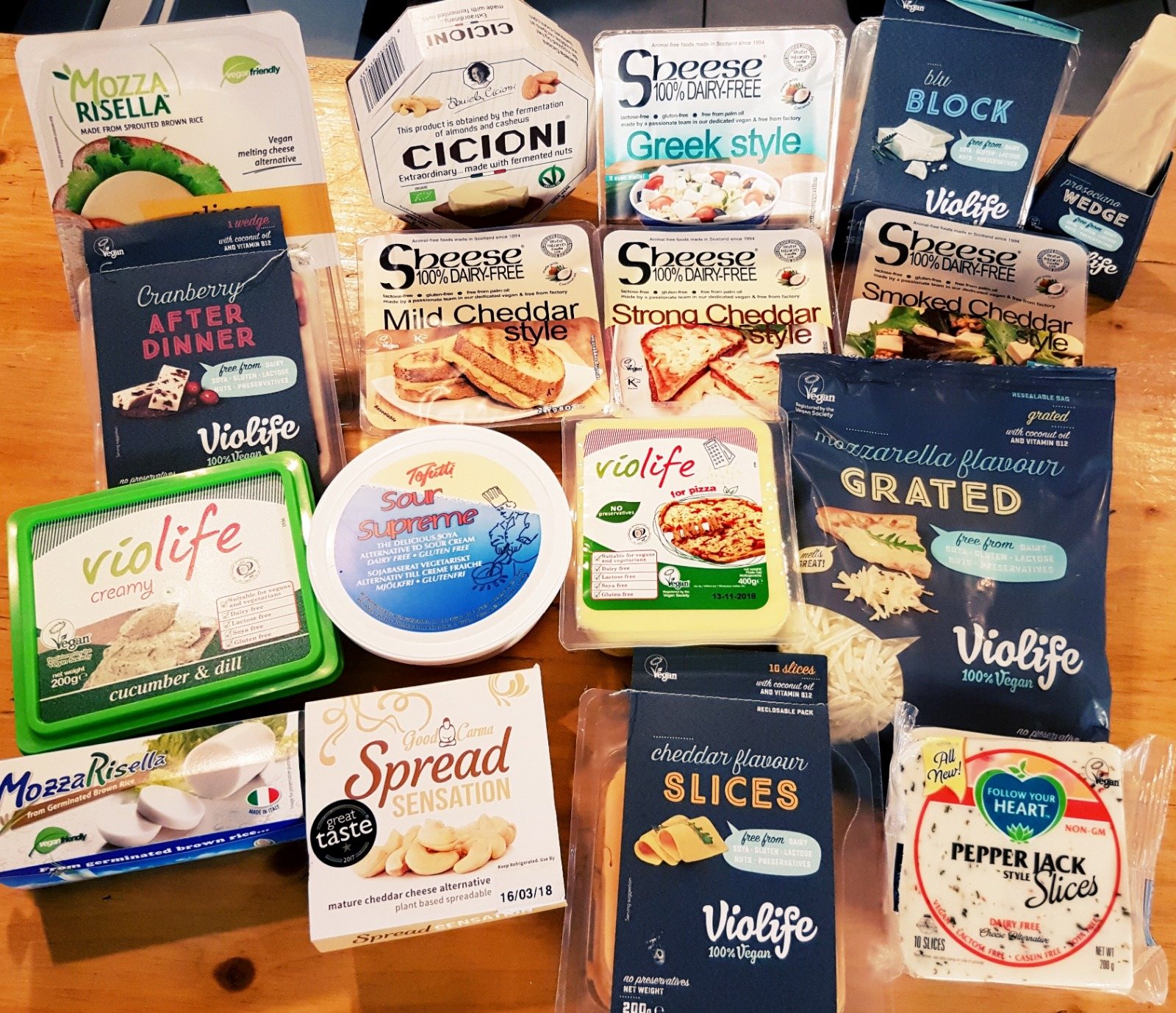 You can also make your own cheesy sauces for meals like lasagne, macaroni cheese, pizza etc.
This is the recipe for the cashew cheesy sauce which we use on our raw pizza. It can also be used as a sauce in a cooked meal:
---

Cashew Cheesy Sauce

2 cups cashews (soaked)
3/4 cup water
1 tbsp lemon juice
1/2 tsp salt
1/3 cup nutritional yeast (Engevita)

Blend all until smooth. Adjust lemon juice and salt amounts for personal taste. Add more water if necessary to facilitate smooth blending. If made quite thick it can be used as a cream cheese spread. If more liquid it can be used as a cheesy sauce for macaroni and in lasagne.


---

If you want a nut-free cheesy sauce, you can make a soya flour one by melting a knob of margarine in a pan, adding a few spoonfuls of soya flour, stirring til mixed. Then gradually stir in soya milk and a teaspoon of Marmite (or other yeast extract - with the soya flour this gives it more of the cheesy flavour). I never followed an exact recipe but adjusted amounts until I had the right taste and consistency that I wanted. I really recommend adapting, experimenting, and playing around with recipes and food, rather than getting stressed by trying to stick strictly to set recipes (unless you find the perfect one of course!).
Making wholefood meals from fresh ingredients is always going to be the healthiest option but sometimes we don't always have the time and so there are many vegan prepared meals available for the freezer too. Here are a few of the cheesy ones we stock but there are also pies and other meals on offer.
If you decide to go ahead and try going vegan for Veganuary, or even just to start including more vegan meals into your diet, we're here to support and encourage you!
Wishing you a wonderful fresh start to 2018 :)