Home Made Granola with Angela Chick
21/08/2019 at 19:20 pm
Recently an illustrator friend of mine posted a great illustration of their granola recipe; this inspired us to not only make the granola but to invite them in to help. Say hello to Angela Chick and her fabulous granola! You might recognise Angela's work from the vegan dedicated birthday cards we have in the shop, but head over to her website for uplifting greetings cards, inventive pins and more!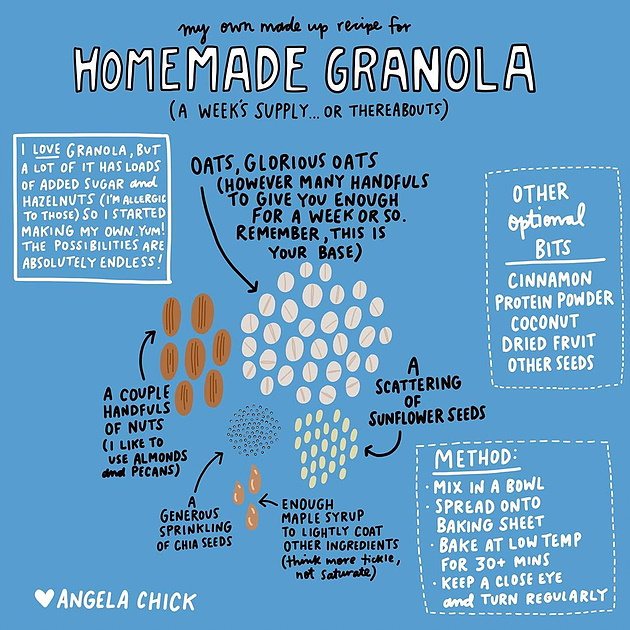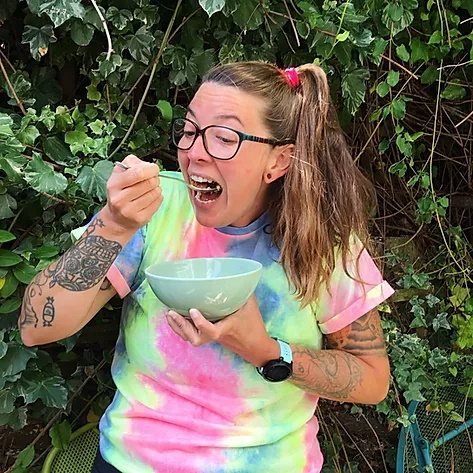 We made this granola organic and used our refill area for most of the ingredients. To reduce the cost of this recipe, I recommend switching maple syrup for agave, switch olive oil for a cheaper oil and switch cashews for walnuts.
This recipe makes enough granola for around 8-10 servings (400g).
(Amounts are what we used but you can increase, decrease, swap for other things, as you like)
90g Porridge Oats £0.18
50g Sunflower Seeds £0.16
35g Chia Seeds £0.22
55g Almonds £0.82
60g Cashews £1.29
20g Coconut Chips £0.11
75g Raisins £0.39
1.5 tbs Olive Oil £0.26
2 tbs Maple Syrup £0.56
TOTAL £3.99
Mix all the dry ingredients together and drizzle olive oil and maple syrup in. Stir and add a pinch of salt if desired. Place on a grease-proof tray (or baking parchment) and roast in the oven for 20-30 minutes on 180 (160 fan), stirring half way through. Once nice and toasted, leave to cool and store. Serve with yoghurt, plant milk or juice.